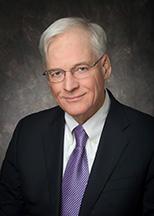 Joseph
D.
McCann
Location:
Rockville Centre, New York
Phone:
516-766-3131

Fax:
516-678-4578

Email:
Joseph D. McCann is admitted to the Bar of the State of New York, and regularly appears before its trial and appellate courts. He is also admitted to practice before various federal courts including the United States Court of Appeals for the Second Circuit; the United States Court of Claims; and the United States District Courts for the Eastern District of New York, Southern District of New York, and Eastern District of Wisconsin.
Mr. McCann is a graduate of St. John 's University School of Law, where he was on the Dean's List and a member of Moot Court. He also has a B.A. cum laude from Marist College, an M.A. cum laude from the State University of New York at Stony Brook, and spent a year studying in Oxford, England.
After graduation from law school in 1984, Mr. McCann became a Law Assistant, and then Deputy Chief Law Assistant to the Judges of the New York Court of Appeals where his duties included legal research and writing, and later administration and editing of the work of other attorneys on staff.
From 1986 through 1994, Mr. McCann was an Assistant United States Attorney in the Eastern District of New York where he also served as Chief Civil RICO Attorney. While in the U.S. Attorney's Office, Mr. McCann served as a trial and appellate attorney representing the United States, its agencies and employees. His areas of practice included Civil RICO, FIRREA, Civil Forfeiture, environmental law, defense of personal injury and medical malpractice cases, contracts, Bivens civil rights cases, Title VII, Social Security, and criminal prosecutions.
While at the U.S. Attorney's Office, Mr. McCann litigated or negotiated a resolution of a wide variety of cases, including:
Bringing a Civil RICO action against a 110 defendants in the Private Sanitation Industry on Long Island, including a trade waste association, a corrupt Teamster Local, various individuals and companies in the industry, certain public officials, and certain members and associates of Organized Crime. In the course of the litigation, relief was obtained putting the Teamster Local under a federal investigative officer, creating a federally-imposed monitorship over various individuals and solid waste companies, and removing certain individuals from the industry, including a capo in the Lucchese Organized Crime Family, and requiring them to divest their interests and disgorge their profits in order to fund the monitorship.
Negotiating the creation of other federally imposed monitorships in Air Freight and Construction Industries.
Obtaining the imposition of a trusteeship over a large federally funded housing project in Brooklyn, New York.
Representing the Federal Emergency Management Agency ("FEMA") at trial, and obtained dismissal of the complaint based on plaintiff's failure to comply with the Federal Assignment of Claims Act and the policy's filing date requirements.
Successfully defending the National Credit Union Administration ("NCUA") after it imposed a conservatorship over a federal credit union on Long Island.
Obtaining partial summary judgment on liability against a metal furniture manufacturer for violating the federal Clean Air Act and subsequently negotiated a penalty for its violations.
Brought a successful Violation of Probation proceeding against a capo in the Colombo Organized Crime Family, who was ostensibly cooperating with the federal government while in fact engaging in multiple acts of fraud.
Mr. McCann was recognized for his outstanding public service with the Director's Award for Superior Performance as an Assistant United States Attorney (given by the Executive Office for United States Attorneys), and with a Special Achievement Award for Sustained Superior Performance of Duties (given by the United States Department of Justice). Mr. McCann also received awards and commendations from the Federal Bureau of Investigation, the United States Probation Department, the National Credit Union Administration, and the Independent Review Board for the International Brotherhood of Teamsters.
In 1994, Mr. McCann was appointed as General Counsel for the Jacob K. Javits Convention Center where his duties included advising the President/CEO and the Board of Directors on legal matters, serving as Corporate Secretary, and personally litigating or overseeing outside counsel on civil cases involving contract disputes, labor issues, employment discrimination, torts, and construction litigation. During this period, Mr. McCann also worked as an Adjunct Professor of Law at St. John's University, teaching Trial Advocacy to Third-Year law students.
Mr. McCann entered private practice and formed Murray & McCann with Mr. Murray in 1995 so the firm is now celebrating 20 years in the practice of law. In private practice, Mr. McCann primarily focuses on federal and state commercial litigation and appeals, insurance defense and coverage disputes, plaintiff's personal injury, labor, employment and civil rights cases, white collar criminal defense, Civil RICO, forfeiture, and qui tam actions. His significant cases in private practice include:
Overturning on appeal a $47 million liability verdict in a Lead Poisoning case and obtained complete dismissal of all claims against the client.
Obtaining dismissal of a Civil RICO/Fraud case brought by an insurer against a client who suffered significant injuries in a construction accident, thereby clearing the way for co-counsel to obtain a $3.7 million personal injury settlement for the client.
Negotiating resolution of bankruptcy claims against an alleged insider in a $400 million Ponzi scheme
Winning an arbitration award of $625,000 against a home contractor for shoddy, defective and incomplete work.
Defeating a motion for summary judgment based on a personal guarantee given by the client and obtaining dismissal of the action on Statute of Frauds grounds.

Representing a local labor union in defeating an attempt by a sister local's federally-appointed monitor to discipline the client's members.
Convincing various insurance carriers to reverse their denials of first party benefits to our clients before the necessity of resorting to litigation.
Negotiating generous severance agreements for various clients.
Negotiating significant penalty reductions for clients fined for non-compliance with Workers Compensation and Disability Insurance laws.
Mr. McCann is also engaged in the monitoring and internal investigation of unions and private companies -- including on behalf of the New York City Department of Investigation and other government entities -- and on behalf of International Unions concerned about allegations of corruption or ethical lapses in one or more of their local affiliates. In this role, Mr. McCann presently serves as Ethics Officer for a major International Union with 119 locals throughout the United States and Canada, and has also been appointed as Special Counsel, Trustee and/or Ethical Practices Counsel for various local unions facing the threat of Government take-over.
Mr. McCann is also the author of various legal articles or committee reports on Section 1983 and Bivens actions, Civil Forfeiture, the False Claims Act, and Organized Crime infiltration of legitimate industries.
Areas of Practice
60% Civil Litigation
40% Labor Union Trustee & Monitor
Bar Admissions
New York, 1985
U.S. District Court Eastern District of New York, 1995
U.S. District Court Southern District of New York, 1985
U.S. Court of Appeals 2nd Circuit, 1987
U.S. Court of Federal Claims, 1996
U.S. District Court Eastern District of Wisconsin, 1998
Education
St. John's University School of Law

, Jamaica, New York

Honors: Dean's List 1981-84
Honors: Member of Moot Court

State University of New York

, Stony Brook

Major: Masters of Liberal Studies Program

Marist College

, Poughkeepsie, New York

Manchester College

, Oxford, England - 1973

Major: English Literature
Published Works
A Call to Modify Recent Federal Legislation Providing for the Payment of State and Local Property Taxes Accrued on Forfeited Real Property

, 1:1 NY Litigator 64, 1995

Garbage and the Mob: Licensing Waste Collection After Carbone

, 1:3 J. Urban Technology 47, 1994

The Interrelationship of Immunity and the Prima Facie Case in Section 1983 and Bivens Actions

, 21 Gonz. L. Rev. 117, 1986

School Board Authority and First Amendment Rights: The View After Board of Education, Island Trees v. Pico

, 18 Akron L. Rev. 283, 1984

The United States Supreme Court Views Copyright on Videotape

, 15 Int'l Rev. Indus. Prop. & Copyright L. 493, 1984

Videotape Recorders and Copyright Infringement: The Fair Use Doctrine on Instant Replay

, 13:4 J. Arts Mgmt. & L. 5, 1984

Re-Entry And Reintegration: The Road to Public Safety, Report and Recommendations of the Special Committee on Collateral Consequences of Criminal Proceedings for the New York State Bar Association

, 2006

Recommendation in Favor of Amending the Federal False Claims Act and Modifying the Proposed Legislation Creating a New York State False Claims Act to Bar from Qui Tam Status Government Employees Who Receive Original Source Information in the Course of Their Employment, Report of the Government Litigation Committee of the New York State Bar Association's Commercial and Federal Litigation Section

, 1992
Honors and Awards
Director's Award for Superior Performance as an Assistant United States Attorney from the Executive Office for United States Attorneys

, 1993 - Present

Special Achievement Award for Sustained Superior Performance of Duties from the United States Department of Justice

, 1989 - Present

Other Awards and Commendations from the Federal Bureau of Investigation, the United States Probation Department, the National Credit Union Administration and the Independent Review Board for the International Brotherhood of Teamsters
Professional Associations and Memberships
New York State Bar Association (NYSBA)

, Member

Nassau County Bar Association (NCBA)

, Member

International Association of Independent Private Sector Inspectors General

, Member

Executive Committee of the NYSBA's Commercial and Federal Litigation Section

, Former Member

NYSBA's Special Committee on the Collateral Consequences of Criminal Proceedings

, Member

NYSBA's Committee on Government Litigation

, Former Chair

New York Regional Bank Fraud Working Group

, Former Member

City of Glen Cove's Community Development Agency

, Former Member

Glen Cove's Master Plan Task Force

, Former Member

North Shore Historical Museum

, Honorary Trustee
Past Employment Positions
City of Glen Cove, City Court Judge , 2007 - 2015
Jacob K. Javits Convention Center, General Counsel and Corporate Secretary, 1994 - 1995
Jacob K. Javits Convention Center, Acting Chief Executive Officer, 1995
St. John's University School of Law, Adjunct Professor of Law, 1992 - 1994
Eastern District of New York, Special Assistant United States Attorney, 1994
Eastern District of New York, Assistant United States Attorney, 1986 - 1994
Eastern District of New York, Chief Civil RICO Attorney, 1991 - 1994
New York State Court of Appeals, Deputy Chief Law Assistant, 1985 - 1986
New York State Court of Appeals, Law Assistant, 1984 - 1985